If I were a magician, my best trick would be the vanishing act. I'm very good at disappearing and often leave few clues.
Sometimes you just need to take a break from one part of your life to give yourself time to deal with what's happening in another. I stopped reading blogs and rarely posted. I disappeared from social media and didn't think much about gardening. I was in a holding pattern while I waited for the front brick work and back garden retaining walls in my new garden to be completed and had nowhere to plant my seedlings. Instead, I walked for miles and worked out to force myself to focus on the moment. Music is a constant in my life and when I just needed to get out of my head, I turned up the volume and danced danced danced. I took long baths with a glass of wine and a good book and talked to my dogs, who think I'm a genius.
'Welcome' seemed like a bit of a stretch but I can say 'hello' to anyone.
Even my door mat was a philosophical choice.
The past twelve months have been a delicate balance of holding on and letting go, of having the strength to listen to that quiet, steady voice that always speaks the truth and finding the courage to do what needed to be done. O
ften without realizing it, w
e seek what we need to nurture ourselves emotionally but our choices reflect who we are. I needed to come home to warmth, peace, positivity, and balance but also wanted space for my family when they visit. I had divorced the father not the family. I bought an old house, painted it yellow, and began a new life.
The dead tree to the left was removed before I bought the house.
My house in November 2017
The front hardscaping was finally completed in early June. I added over 2,000 pounds of compost to the soil, which is mostly heavy clay.
June 2018
I planted diervilla 'Kodiak Black' and abelia 'Kaleidoscope' under the windows. Diervilla is a tough native shrub that thrives in dry soil in both sun and shade. Both shrubs attract pollinators and have beautiful fall color. Right now the yellow diervilla flowers are blending into the house, which breaks all the design rules but I don't give a rat's ass about design rules.
The view from the front door
After purchasing my home and beginning a month of mostly interior renovations that ended right before Christmas, I decided to only buy what inspired the strongest gut reaction. I didn't overthink or analyze anything. I simply made a list of what I needed and broke everything down into a Yes or No decision. If I didn't immediately love it and it wasn't perfect for the space, I stopped considering it.
The path from the side porch to the front garden.
I took the same approach to my garden.
Without an HOA or spouse to contend with,
I went outside, asked myself "What do I want?" and followed my gut. A side slope covered in turf grass was turned into a meadow full of prairie drop seed grass, liatris, and milkweed while I waited for the front hardscaping to be finished. To balance the strong, simple lines of the house, I replaced a scruffy, narrow flagstone path with a wide brick walkway and two curving side paths. A small path dead ends into a semi-circle centered with a bird bath so I can watch the action from the dining room window. Once the brick work was done, I threw myself into creating a new garden.
This bed is full of plants I started from seed that should have been moved out of their growing cups a month ago. What started as my annual seed starting bender quickly became a hostage situation observed with pity by the hefty, vigorous seedlings added to a few pots in May. The miserable, undersized Solo cup prisoners were planted into compost with apologies, a drench of liquid kelp, and a request to please stay alive. They've grudgingly agreed. Some of my favorite perennials from my other garden were also added. This is my new butterfly garden.
A cotinus 'Grace' (purple smoke bush in the far right corner) will eventually give me privacy from my neighbor and will balance the massive cherry tree in the shady side.
Wrens quickly moved into this house and have raised two broods, despite the constant presence of contractors.
The grass has been replaced with perennials and a metal glider given to me after my mom died fifteen years ago has been painted a warm copper and placed under the cherry tree. Plants brought over from my other garden were plopped into whatever spot I could find last November and again this spring, which explains why I have short plants in the back and tall plants in the front. I thought I'd have time to redesign the beds before summer. I'll save that fun for fall.
This bed is full of plants salvaged from my other garden, rescued from garden center sale tables, or gifted by my amazing local friends, who all knew where to find me.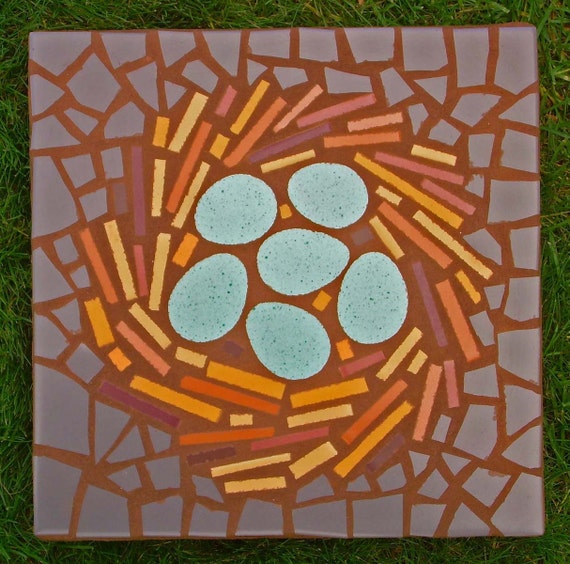 I purchased these handmade mosaic stepping stones from artist Jan Wilhelmi. They'll be here in about a month and will be placed in front of the copper glider. I love mosaic art because it takes the best parts of what's broken and turns it into something beautiful and new. That's the approach I took with my divorce and my ex-husband and I are still friends.
Gold solar globes hang like ornaments in the cherry tree.
At night they glow as if full of fireflies.
The website where I found these called them fairy dust balls. Whatever. The closest I'll ever come to fairy dust or a magic wand is a cheap hunk of plastic made in China but they're pretty and my tree looks cool at night so I bought them.
I have golden, glowy balls in my tree. What's not to like?
Corkscrew vine
Picture shamelessly borrowed from Google Images.
As for the arbor,
I've always wanted a rose covered arbor so I bought one.
It
appeals to the romantic in me and gives the garden a greater sense of place with a prominent entrance. While I wait for the 'Laguna' and 'Climbing Lady of Shallott' roses and 'Baltyk' clematis to grow, corkscrew vine started from seed will quickly scramble up the sides and spill over the top, their purple pendulous flowers hanging down between the beams like fat snails.
June 2018
I'm back and will be blogging more regularly now that my new garden is taking shape.